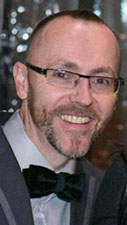 Dear IFMA Legal Industry Council Members,
It is with great honor and privilege that I will serve as your Incoming President for the Legal Industry Council for the term 2017/2018.
Having been involved with the IFMA LIC for just over 10 years now, I can honestly say that I could not ask to be in the better company both professionally and personally. Over the course of the last decade, I've been inspired and awed by the leaders in this community, as well as the knowledge and support I've gained from you, our members. It is a very solid community, and one I feel where everyone looks out for one another. Whether by being able to send an email through a google group forum with a question or concern one may have, and within moments responses come flowing in. Or through the study groups sessions that have existed in allowing members to be successful in obtaining their professional designations. This community continues to be strong, focused and innovative.
As we all witness year over year, the legal industry is constantly changing, and we in our capacity as Facility Managers and Directors are also expected to change, much of the time being expected in our roles to anticipate this change ahead of the curve. Also having solutions at the ready when our firm's leadership make the time to have those conversations with us. Our Benchmarking surveys, as well as our Program and Educational webinars, and our attendance at conferences such as WWP and Facility Fusion which are all extremely important to our day to day successes, serve us well in allowing us to be the Subject Matter Experts in our fields.
And speaking of conferences, this past year in April, I had the pleasure of spending time with several of our board of directors and LIC members at Facility Fusion 2017 at Caesars Palace in Las Vegas. Over the course of those few days, we focused our time well on several topics of interest, specific to our industry During that time I also had the pleasure of meeting Jim Hilf and Kim Daugherty for the first time in person, as well as rekindling my long standing professional relationship with Phyllis Medler. Jim is now our incoming Vice President, Kim serving as our Secretary and Phyllis taking the lead as Treasurer for the council. They along with myself are thrilled to serve as part of the LIC board for the term 2017/2018, and I personally am extremely grateful for their knowledge, support, professionalism, and volunteerism.
A very important and huge word of "Thanks" must be given to our outgoing President Joseph Geierman. Joseph is an amazing leader, and has been extremely focused and centered around keeping the council strong, relevant and forward thinking. He along with the outgoing board has done an incredible job and we are so very grateful to all of them. Please join me in gratitude to Joseph Geierman, Steven Rothmund, Stephen Pasco as they pass the baton to our incoming board. Also many thanks to Holly Evers, Craig Oakman, Ernie Casas, David Nugent and Mike Lesage who all will continue to support the Council as they have been doing these past several years. We are also fortunate to have Joseph continue in the role of Past President and as an advisor to the council.
In closing, I want to emphasize that this council is not possible without "YOU" it's members, as your board we are always open and eager to hear from you. Whether it be about ways we can serve you better, or areas that we may not have yet hit upon which you feel our time and energies should focus on. We also encourage your participation through our Google Group, attending a conference or by participating in one of our Program/Educational webinars. We are well aware of the constraints of time, both professionally and personally these days, and are hopeful over the course of this coming year to have opportunities to spend time with each of you either virtually or in person as we forge ahead to continue to ensure our Council stays strong, focused and innovative.
Thank you for your time, participation and membership.
Noel McNulty, IFMA Legal Industry Council