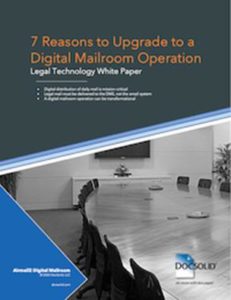 February 23rd at 1pm Eastern, 12pm Central, 11am Mountain, 10am Pacific
Topic: Digital Mail Room Solutions with DocSolid
Digitized mail in a law firm has unique security, governance and compliance needs. That is why you need a best practice Digital Mail Room solution built for a law firm to achieve direct digital delivery of postal mail to the firm's existing document management system such as iManage or NetDocuments.
Digital distribution of daily mail is mission-critical
Legal mail must be delivered to the DMS, not the email system
A digital mail room operation can be transformational
About Doc
Solid DocSolid creates, sells and supports the PostmarkTM brand of Paper2Digital® solutions for optimized scanning, printing, and shredding. These patented solutions reduce the costs, risks and inefficiencies of paper records. For leading law firms and corporate legal departments worldwide, thousands of users rely on Postmark powered workflows integrated with iManage, NetDocuments, OpenText eDOCS, Worldox, SharePoint, Thomson Elite, Aderant, LegalKey and Chrome River. For more information, please visit docsolid.com.
Please click here to register for the LIC Webinar: Create a Digital Mail Room with Airmail2 on Tuesday Feb 23, 2021 at 1:00 PM EST. After registering, you will receive a confirmation email containing information about joining the webinar.