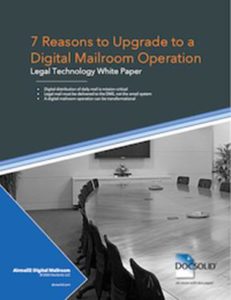 Topic: Digital Mail Room Solutions with DocSolid
Here is the link to watch the 45-min. webinar replay recording at your convenience.
Title is: Create a Digital Mailroom with Airmail2.
WEBINAR REPLAY RECORDING
The digital mailroom is essential for Legal Industry Council member firms because daily mail is mission-critical. As explained in the presentation, Airmail2 is the smart choice because it keeps attorneys and staff working productively and securely from anywhere.
https://www.docsolid.com/webinars/law-firm-digital-mailroom-airmail2
LEARN MORE
Airmail2 Software Datasheet PDF download
https://docsolid.com/software/airmail2
White Paper – Digital Mailroom 7 Reasons PDF download
https://www.docsolid.com/7-reasons-to-upgrade-to-a-digital-mailroom-operation-white-paper-by-docsolid