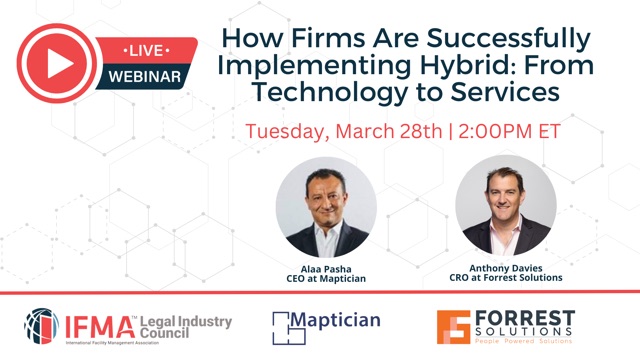 Webinar title: How Firms Are Successfully Implementing Hybrid: From Technology to Services
Description: Is it time yet to declare hybrid operations a success? If so, what does success look like, and what approaches and programs have helped firms achieve it?
Over the past two years, firms have been challenged by the question of hybrid operations and how to successfully entice attorneys back into the office. Success to many firms means increasing the in-office presence of attorneys in a consistent way that builds culture and increases productivity—but two years in, firms are realizing it takes more than bagels.
Please join Chief Revenue Officer, Forrest Solutions, Anthony Davies and Chief Executive Officer, Maptician, Alaa Pasha for this hands-on discussion regarding concrete strategies law firms have implemented that are delivering RTO success for their firms—and the data to support it. From technology that is helping firms to design and implement a culturally fit hybrid model, to hospitality-based programs that transform the office into an experience, Anthony and Alaa will share how leading firms have iterated their way to success and increased attorney presence.
Attendees of this session will:
Learn the results of Forrest Solutions 2023 Return-to-Office Survey and success metrics
Learn about innovative technology built for hybrid operations that provides firms with end-to-end hybrid planning, implementation and monitoring capabilities
Consider the role of technology that helps peers connect and collaborate in the office
Understand how law firms have transformed their offices with hospitality-based programs like workplace experience.
Use metrics such as attorney attrition rates, productivity, and talent pool to view how firms have measured the success of their return-to-office strategies.