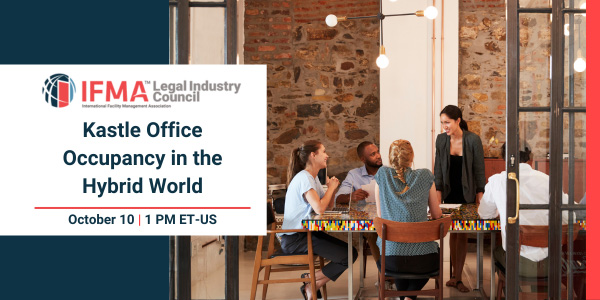 Title: Kastle Office Occupancy in the Hybrid World
Date: October 10
Time: 1:00 pm EST
Login: See IFMA Engage for Login Information.
Work-from-home policies put in place during the pandemic have transformed office usage patterns across the country including the average law practice. Even as employers are increasingly mandating that their workers spend more workdays in the office, it appears unlikely that the average office will ever go back to five-days-per-week.
In our webinar on Tuesday, October 10, we will hear from Kastle, the authoritative source on workplace attendance data and an IFMA National Silver Corporate Sustaining Partner. Our presenter will be Harry Choi, General Manager of Enterprise Business Accounts, who oversees the relationships with Kastle's multi-office enterprise clients, including an extensive amount in the legal industry securing 49 firms of the AmLaw100.
He will be discussing office occupancy trends as measured by Kastle's Back-to-Work-Barometer, the index that has become a benchmark measure in the national media for tracking workplace attendance since the start of the pandemic for American workplaces including its legal industry-specific version. Please join us for this engaging discussion.
Harry Choi is Kastle's General Manager of Enterprise Accounts, a business unit dedicated to serving enterprise clients with nationwide presence as a single service provider from sales to support. Harry has over 20 years of domestic and international sales, operation and support experience in IT, cloud and security managed-services. Before joining Kastle, Harry held various management and leadership positions at Digital Signal Corporation, Blackboard and MCI/WorldCom. Harry is a graduate of the George Washington University's Elliott School of International Affairs and University of California, San Diego.